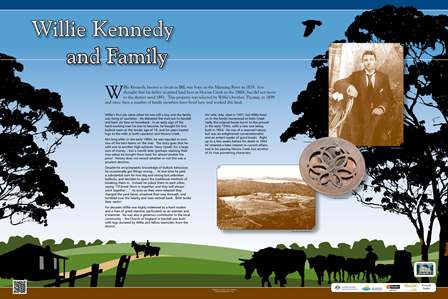 Willie Kennedy, known to locals as Bill, was born on the Manning River in 1879. It is thought that his father acquired land here at Herons Creek in the 1880s, but did not move to the district until 1891. This property was selected by Willie's brother, Thomas, in 1899 and since then a number of family members have lived here and worked this land.

Willie's first job came when he was still a boy and the family was living at Laurieton. He delivered the mail out to Kendall and back via Kew on horseback. In an early sign of the hard-working man he was to become, he bought his first bullock team at the tender age of 18, and for years hauled logs to the mills at both Laurieton and Herons Creek.
Not long after, in the early 1900s, he was reputed to own two of the best teams on the river. The story goes that he sold one to another high-achiever, Harry Upsall, for a large sum of money – but a month later (perhaps realising their true value) he bought them back for almost double the price! History does not record whether or not this was a prudent decision.

Despite his encyclopaedic knowledge of bullock behaviour, he occasionally got things wrong… At one time he paid a substantial sum for two big and strong but unbroken bullocks, and decided to spurn the traditional methods of breaking them in. Instead he yoked them to each other, saying "I'll break them in together, and they will always work together…" As soon as they were released they charged the yard fence, smashed their way through, and tumbled over the nearby and near-vertical bank. Both broke their necks!

For decades Willie was highly esteemed as a hard worker and a man of great stamina, particularly as an axeman and a teamster. He was also a generous contributor to the local community – the Church of England in Kendall was built with logs donated by Willie and fellow teamsters from the district.

His wife, Ada, died in 1937, but Willie lived on in the family homestead at Bobs Creek. Sadly the original house burnt to the ground in the early 1950s, with a new one being built in 1954. He was of a reserved nature, but was an enlightened conversationalist and an ardent reader of good books. Right up to a few weeks before his death in 1964 he retained a keen interest in current affairs, and in his passing Herons Creek lost another of its true pioneering characters.