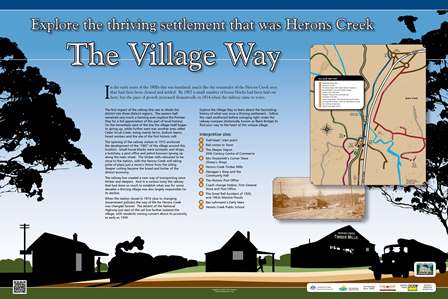 Explore the thriving settlement that was Herons Creek :: The Village Way
In the early years of the 1900s this was farmland, much like the remainder of the Herons Creek area that had then been cleared and settled. By 1907 a small number of house blocks had been laid out here, but the pace of growth increased dramatically in 1914 when the railway came to town.
The first impact of the railway line was to divide the district into three distinct regions. The eastern half remained very much a farming area (explore the Pioneer Way for a full appreciation of this part of local history). On the immediate west of the line the village itself began to spring up, while further west was another area called Cedar Scrub Creek, being mainly farms, bullock teams, forest workers and the site of the first historic mill.
The opening of the railway station in 1915 anchored the development of the "CBD" of the village around this location. Small house blocks were surveyed, and shops, a butchery, a post office and petrol bowsers sprang up along the main street. The timber mills relocated to be close to the station, with the Herons Creek mill taking pride of place just a stone's throw from the siding. Sleeper cutting became the bread and butter of the district economy.
The railway line created a new way of transporting sawn timber and sleepers. And in a curious irony the railway that had done so much to establish what was for some decades a thriving village was also largely responsible for its decline.
When the station closed in 1974 (due to changing Government policies) the way of life for Herons Creek was changed forever. The advent of the National Highway just east of the rail line further isolated the village, with residents voicing concern about its proximity as early as 1939.
Explore the Village Way to learn about the fascinating history of what was once a thriving settlement – follow the road southward before swinging right under the railway overpass (historically known as Black Bridge) to find your way to the heart of this unique village.
Interpretive sites
Trail-head / start point

Rail comes to Town

The Sleeper Depot: 20th Century Centre of Commerce

Mrs Shoesmith's Corner Store (Shoey's Shop)

Herons Creek Timber Mills

Flanagan's Shop and the Community Hall

The Historic Post Office

Coach change Station, First General Store and Post Office

The Great Rail Accident of 1926, and 1963s Massive Floods

Baz Luhrmann's Early Years

Herons Creek Public School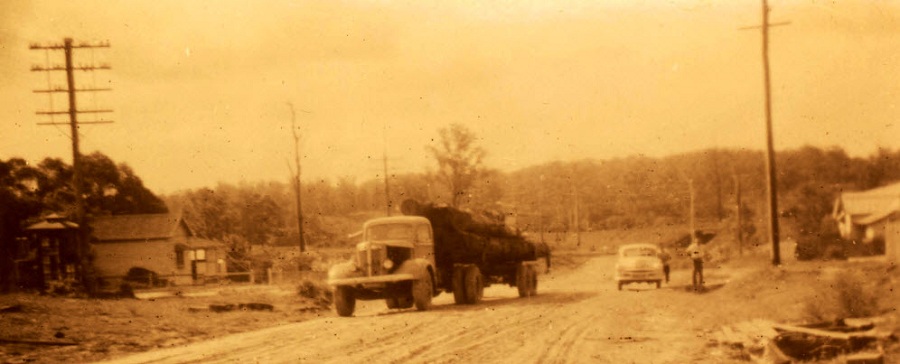 THANK YOU to the Sponsors of this Sign: