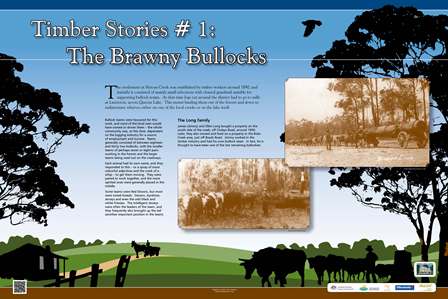 The settlement at Herons Creek was established by timber workers around 1890, and initially it consisted of mainly small selections with cleared grassland suitable for supporting bullock teams. At that time logs cut around the district had to go to mills at Laurieton, across Queens Lake. This meant hauling them out of the forests and down to rudimentary wharves either on one of the local creeks or on the lake itself.

Bullock teams were favoured for this work, and most of the local men would have owned or driven them – the whole community was, at this time, dependent on the logging industry for a source of employment and income. Teams generally consisted of between eighteen and thirty two bullocks, with the smaller teams of perhaps seven or eight pairs working in the forests and the larger teams being used out on the roadways.

Each animal had its own name, and they responded to this – or a spray of more colourful adjectives and the crack of a whip – to get them moving. They were paired to work together, and the more spirited ones were generally placed in the middle.

Some teams were Red Devons, but most were mixed breeds: Devons, Ayrshires, Jerseys and even the odd black and white Friesian. The intelligent Jerseys were often the leaders of the team, and they frequently also brought up the tail (another important position in the team).

The Long family
James (Jimmy) and Ellen Long bought a property on the south side of the creek, off Cluleys Road, around 1890. Later, they also owned and lived on a property in the Bobs Creek area, just off Boyds Road. Jimmy worked in the timber industry and had his own bullock team. In fact, he is thought to have been one of the last remaining bullockies.