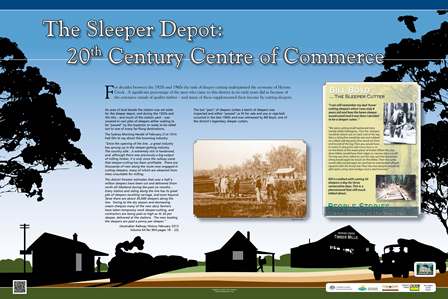 The Sleeper Depot: 20th Century Centre of Commerce
For decades between the 1920s and 1960s the task of sleeper cutting underpinned the economy of Herons Creek. A significant percentage of the men who came to this district in its early years did so because of the extensive stands of quality timber – and many of these supplemented their income by cutting sleepers.
An area of land beside the station was set aside for the sleeper depot, and during the 1920s and 30s this – and much of the station yard – was covered in vast piles of sleepers either waiting to be "passed" by the inspector or ready to be railed out to one of many far-flung destinations.
The Sydney Morning Herald of February 21st 1914 had this to say about this booming industry:
"Since the opening of the line…a great industry has sprung up in the sleeper-getting industry. The country side…is extremely rich in hardwood, and, although there was previously a big output of milling timber, it is only since the railway came that sleeper-cutting has been profitable. There are thousands of men along the route now engaged in cutting sleepers, many of which are obtained from trees unsuitable for milling.
The district forester estimates that over a half a million sleepers have been cut and delivered (from north of) Maitland during the past six months…Every station and siding along the line has its great pile of sleepers awaiting carriage, and even beyond Taree there are about 30,000 sleepers along the line. Owing to the dry season and decreasing cream cheques many of the new dairy farmers have taken temporary work sleeper-cutting, and contractors are being paid as high as 4s 3d per sleeper, delivered at the stations. The men loading the sleepers are paid a penny per sleeper."
(Australian Railway History February 2013
Volume 64 No 904 pages 18 – 23)
The last "pass" of sleepers (when a batch of sleepers was inspected and either "passed" as fit for sale and use or rejected) occurred in the late 1960s and was witnessed by Bill Boyd, one of the district's legendary sleeper cutters.

THANK YOU to the Sponsors of this Sign: