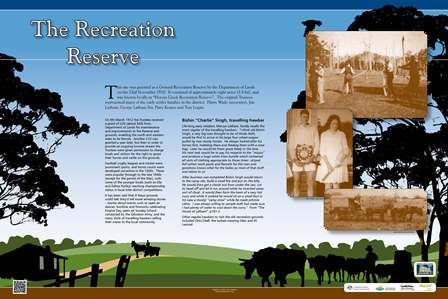 This site was gazetted as a General Recreation Reserve by the Department of Lands on the 23rd November 1910. It consisted of approximately eight acres (3.5 ha), and was known locally as "Herons Creek Recreation Reserve". The original Trustees represented many of the early settler families in the district: Harry Wade (secretary), Jim Latham, George Latham Snr, Patty Keayes and Tom Logan.

On 6th March 1912 the Trustees received a grant of £20 (about $40) from Department of Lands for maintenance and improvements to the Reserve and grounds, enabling the north and western sides to be fenced. Another £10 was granted a year later, but then in order to provide an ongoing income stream the Trustees were given permission to charge locals and visitors for the right to graze their horses and cattle on the grounds.

Football (rugby league) and cricket were prominent sports, and tennis courts were developed sometime in the 1930s. These were popular through to the late 1940s (except for the period of the War), with some of the younger locals (such as Ella and Zelma Hurley) reaching championship status in local inter-district competitions.

It has been said that if these grounds could talk they'd tell some amazing stories – stories about events such as open air dances, bonfires and fireworks celebrating Empire Day, open air Sunday School conducted by the Salvation Army, and the many visits of travelling hawkers selling their wares to the local community.

Bishin "Charlie" Singh, travelling hawker
Life-long early resident, Mervyn Latham, fondly recalls the most regular of the travelling hawkers: "I think old Bishin Singh, a very big man thought to be of Hindu faith, would be first to arrive in his large four wheel wagon pulled by two sturdy horses. He always looked after his horses first, hobbling them and feeding them with a nose bag. Later he would let them graze freely in the lane. His next task would be to pay his respects to the "missus" and produce a huge white linen bundle which contained all sorts of clothing appropriate to those times: striped full cotton work pants and flannels for the men and goodness knows what for the ladies as most of that stuff was taboo to us.

After business was completed Bishin Singh would return to the camp site, build a small fire and put on the billy. He would then get a chook out from under the van, cut its head off and let it run around while he incanted some sort of ritual. It would then form the basis of a very hot curry and while it cooked he would sit on a small (but in his case a sturdy) "camp stool" while he made johnnie cakes. I was always willing to sample both but made sure I had plenty of water to cool down the curry." From "The House of Latham", p101-2.

Other regular hawkers to visit the old recreation grounds included Otto Eitell, the turban-wearing Oleo and Eli Lestrad.