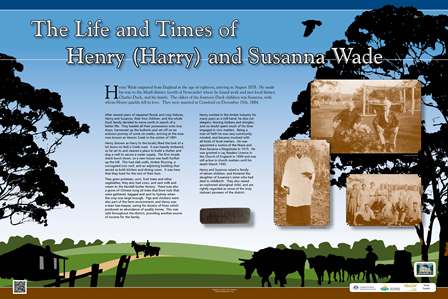 Henry Wade migrated from England at the age of eighteen, arriving in August 1878. He made his way to the Myall district (north of Newcastle) where he found work and met local farmer, Charles Duck, and his family. The eldest of the fourteen Duck children was Susanna, with whom Henry quickly fell in love. They were married at Crawford on December 15th, 1884.
After several years of repeated floods and crop failures, Henry and Susanna, their four children, and the whole Duck family decided to move north in search of a better life. They loaded all their possessions onto two drays, harnessed up the bullocks and set off on an arduous journey of some six weeks, arriving at the area now known as Herons Creek in the winter of 1891.
Henry (known as Harry to the locals) liked the look of a lot down on Bob's Creek road. It was heavily timbered, so he set to and cleared a place to build a shelter and dug a well to secure a water supply. The first simple shack burnt down, so a new house was built further up the hill. This had slab walls, timber flooring, a corrugated iron roof, and an adjoining building that served as both kitchen and dining room. It was here that they lived for the rest of their lives.
They grew potatoes, corn, fruit trees and other vegetables; they also had cows, and sent milk and cream to the Kendall butter factory. There was also a grove of Chinese tung oil trees that bore nuts that were gathered, bagged and sent to Sydney when the crop was large enough. Pigs and chickens were also part of the farm environment, and Henry was a keen bee-keeper, caring for dozens of hives which produced an abundance of quality honey. This was sold throughout the district, providing another source of income for the family.
Henry worked in the timber industry for many years as a mill hand; he also cut sleepers, fencing timbers and shingles, and no doubt spent much of his time engaged in civic matters. Being a man of faith he was very community minded, and became involved with all kinds of local matters. He was appointed a Justice of the Peace and then became a Magistrate in 1915. He was granted a Lay Readers Licence in the Church of England in 1899 and was still active in church matters until his death March 1943.
Henry and Susanna raised a family of eleven children, and fostered the daughter of Susanna's sister who had died in childbirth. They also raised an orphaned aboriginal child, and are rightly regarded as some of the truly stalwart pioneers of the district.