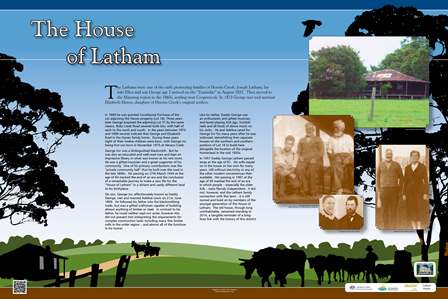 The Lathams were one of the early pioneering families of Herons Creek. Joseph Latham, his wife Ellen and son George age 7 arrived on the "Zemindar" in August 1857. They moved to the Manning region in the 1860s, settling near Coopernook. In 1873 George met and married Elizabeth Hawes, daughter of Herons Creek's original settlers.

In 1889 he was granted Conditional Purchase of the Lot adjoining the Hawes property (Lot 18). Three years later George acquired the adjoining Lot 31 by the same means. Bobs Creek Road severed both lots, with half of each to the north and south. In the years between 1873 and 1889 records indicate that George and Elizabeth lived in the Hawes family home. During these years eight of their twelve children were born, with George Jnr. being first son born in November 1875 at Herons Creek.

George Snr was a distinguished blacksmith. But he was also an educated and well-read man and kept an impressive library in what was known as his rest room. He was a gifted musician and a great supporter of his community. One of his primary contributions was the "private community hall" that he built over the road in the late 1890s. His passing on 27th March 1944 at the age of 94 marked the end of an era and the conclusion of a remarkable journey to make a new life for the "House of Latham" in a distant and vastly different land to his birthplace.

His son, George Jnr, affectionately known as Daddy George, met and married Adeline Lewis on 21st. June 1899. He followed his father into the blacksmithing trade, but was a gifted craftsman capable of building almost anything of timber or steel. In contrast to his father, he could neither read nor write, however this did not prevent him interpreting the requirements for complex construction tasks including many fine timber mills in the wider region – and almost all of the furniture in his home!

Like his father, Daddy George was an enthusiastic and gifted musician, and loved playing Irish jigs, Scottish reels and all kinds of dance music on his violin. He and Adeline cared for George Snr for many years after he was widowed, demolishing their separate houses on the northern and southern portions of Lot 18 to build here alongside the location of the original homestead in the mid 1930s.

In 1957 Daddy George Latham passed away at the age of 81. His wife stayed on in the house on her own for many years, still without electricity or any of the other modern conveniences then available. Her passing in 1967 at the age of 90 marked the end of an era in which people – especially the older folk – were fiercely independent. It did not, however, end the Latham family connection with this land – it is still owned and lived on by members of the younger generation of the House of Latham. The old house, though long uninhabitable, remained standing in 2014, a tangible reminder of a long-time link with the history of this district.