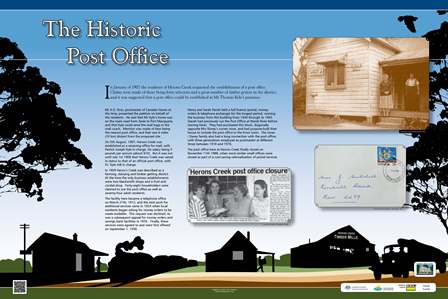 The Historic Post Office
In January of 1907 the residents of Herons Creek requested the establishment of a post office. Claims were made of there being forty selectors and a great number of timber getters in the district, and it was suggested that a post office could be established at Mr Thomas Kyle's premises.
Mr H.D. Ross, postmaster of Camden Haven at the time, presented the petition on behalf of the residents. He said that Mr Kyle's home was on the main road from Taree to Port Macquarie, and that Kyle could send the mail bags in the mail coach. Mention was made of Kew being the nearest post office, and that was 6 miles (10 km) distant from the proposed site.
On 5th August, 1907, Herons Creek was established as a receiving office for mail, with Patrick Joseph Kyle in charge, his salary being 5 pounds per annum (about $10). But it was not until July 1st 1908 that Herons Creek was raised in status to that of an official post office, with P.J. Kyle still in charge.
In 1909 Heron's Creek was described as a farming, dairying and timber getting district. At the time the only business establishments were two blacksmith shops and a fruit and cordial shop. Forty-eight householders were claimed to use the post office as well as seventy-four adult residents.
The facility here became a telephone office on March 27th, 1912, and the next push for additional services came in 1924 when local residents began asking for money orders to be made available. This request was declined, as was a subsequent appeal for money orders and savings bank facilities in 1935. Finally, these services were agreed to and were first offered on September 1, 1938.
Henry and Sarah Parish held a full licence (postal, money orders & telephone exchange) for the longest period, running the business from this building from 1944 through to 1963 (Sarah had previously run the Post Office at Wards River before moving here). They had purchased this block, diagonally opposite Mrs Shoey's corner store, and had purpose-built their house to include the post office in the front room. The Jones / Davey family also had a long connection with the post office, with three generations employed as postmaster at different times between 1918 and 1976.
The post office here at Herons Creek finally closed on November 11th 1988, when most similar small offices were closed as part of a cost-saving rationalisation of postal services.

THANK YOU to the Sponsors of this Sign: