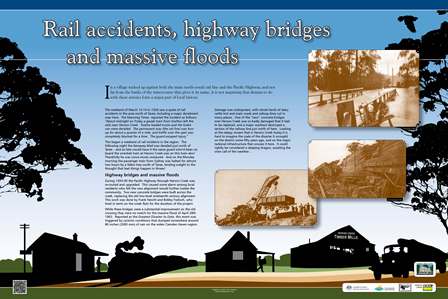 Rail accidents, highway bridges and massive floods
In a village tucked up against both the main north-south rail line and the Pacific Highway, and not far from the banks of the watercourse that gives it its name, it is not surprising that dramas to do with these arteries form a major part of local history.
The weekend of March 13-14 in 1926 saw a spate of rail accidents in the area north of Taree, including a major derailment near here. The Manning Times reported the incident as follows: "About midnight on Friday a goods train from Grafton left the rails near Herons Creek. Twelve loaded trucks and the brake van were derailed. The permanent way (the rail line) was torn up for about a quarter of a mile, and traffic over the spot was completely blocked for a time. The guard escaped injury."
This began a weekend of rail incidents in the region. The following night the Kempsey Mail was derailed just north of Taree – and as fate would have it the same guard who'd been on board the wrecked train at Herons Creek was on this train also! Thankfully he was (once more) uninjured. And on the Monday morning the passenger train from Sydney was halted for almost two hours by a fallen tree south of Taree, lending weight to the thought that bad things happen in threes!
Highway bridges and massive floods
During 1939-40 the Pacific Highway through Herons Creek was re-routed and upgraded. This caused some alarm among local residents who felt the new alignment would further isolate the community. Two new concrete bridges were built across the creek, replacing the old low-level nineteenth century alignment. This work was done by Frank Hewitt and Bobby Fratisch, who lived in tents on the creek flats for the duration of the project.
While these bridges were a substantial improvement on the old crossing they were no match for the massive flood of April 28th 1963. Reported as the Greatest Disaster to Date, this event was triggered by cyclonic conditions that dumped somewhere around 80 inches (2000 mm) of rain on the wider Camden Haven region.
Damage was widespread, with whole herds of dairy cattle lost and main roads and railway lines cut in many places. One of the "new" concrete bridges over Herons Creek was so badly damaged that it had to be replaced, and a major washout destroyed a section of the railway line just north of here. Looking at the sleepy stream that is Herons Creek today it is hard to imagine the scale of the disaster it wrought on the district some fifty years ago, and on the major national infrastructure that crosses it here. It could rightly be considered a sleeping dragon, awaiting the siren call of the weather…

THANK YOU to the Sponsors of this Sign: