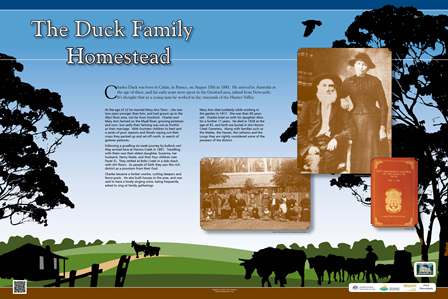 Charles Duck was born in Calais, in France, on August 10th in 1845. He arrived in Australia at the age of three, and his early years were spent in the Gresford area, inland from Newcastle. It's thought that as a young man he worked in the vineyards of the Hunter Valley.

At the age of 22 he married Mary Ann Toms – she was two years younger than him, and had grown up in the Allyn River area, not far from Gresford. Charles and Mary Ann farmed on the Myall River, growing potatoes and corn, but sadly their farming was not as fruitful as their marriage. With fourteen children to feed and a series of poor seasons and floods wiping out their crops they packed up and set off north, in search of greener pastures.

Following a gruelling six-week journey by bullock cart they arrived here at Herons Creek in 1891. Travelling with them was their eldest daughter, Susanna, her husband, Henry Wade, and their four children (see Panel 5). They settled at Bobs Creek in a slab shack with dirt floors. As people of faith they saw this rich district as a provision from their God.

Charles became a timber worker, cutting sleepers and fence posts. He also built houses in the area, and was said to have a lovely singing voice, being frequently asked to sing at family gatherings.

Mary Ann died suddenly while working in the garden in 1917. She was then 69 years old. Charles lived on with his daughter Alice for a further 11 years. He died in 1928 at the age of 83, and both are buried in the Herons Creek Cemetery. Along with families such as the Wades, the Hawes, the Lathams and the Longs they are rightly considered some of the pioneers of the district.