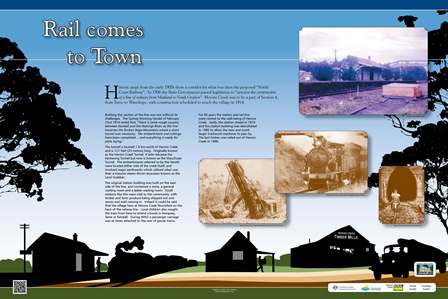 Rail comes to Town
Historic maps from the early 1900s show a corridor for what was then the proposed "North Coast Railway". In 1906 the State Government passed legislation to "sanction the construction of a line of railway from Maitland to South Grafton". Herons Creek was to be a part of Section 4, from Taree to Wauchope, with construction scheduled to reach the village in 1914.
Building this section of the line was not without its challenges. The Sydney Morning Herald of February 23rd 1914 noted that "There is some rough country between Kendall and the Hastings River, as the line traverses the Broken Bago Mountains where a short tunnel was necessary. The embankment and cuttings have been completed… and everything is ready for plate laying."
The tunnel is located 1.6 km north of Herons Creek, and is 121 feet (35 metres) long. Originally known as the Herons Creek Tunnel, it later became the Kerewong Tunnel but now is known as the Wauchope Tunnel. The embankments referred to by the Herald were located either side of the creek itself, and involved major earthworks which utilised what was then a massive steam-driven excavator known as the Land Grabber.
The original station building was built on the east side of the line, and contained a store, a general waiting room and a ladies waiting room. Small stations like this were vital to the community, with timber and farm produce being shipped out and stores and mail coming in. Indeed it could be said that the village here at Herons Creek flourished on the back of the railway line. Local children also caught the train from here to attend schools in Kempsey, Taree or Kendall. During WW2 a passenger carriage was at times attached to the rear of goods trains.
For 60 years the station and rail line were central to the well-being of Herons Creek. Sadly, the station closed in 1974 and the station building was demolished in 1980 to allow the new and much larger trackwork machines to pass by. The last timber was railed out of Herons Creek in 1986.
THANK YOU to the Sponsors of this Sign: