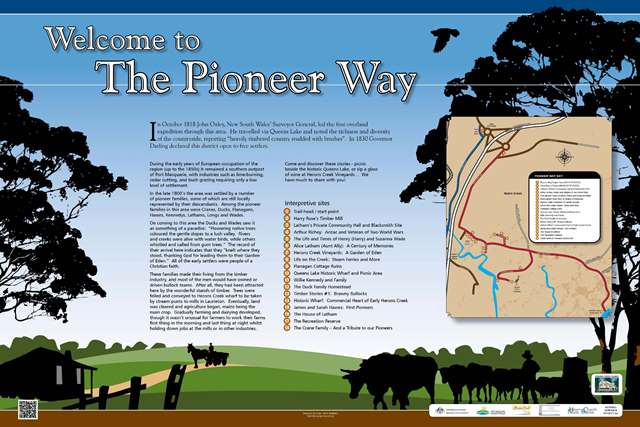 Welcome to The Pioneer Way
In October 1818 John Oxley, New South Wales' Surveyor General, led the first overland expedition through this area. He travelled via Queens Lake and noted the richness and diversity of the countryside, reporting "heavily timbered country studded with brushes". In 1830 Governor Darling declared this district open to free settlers.
During the early years of European occupation of the region (up to the 1850s) it remained a southern outpost of Port Macquarie, with industries such as lime-burning, cedar cutting, and bush grazing requiring only a low level of settlement.
In the late 1800's the area was settled by a number of pioneer families, some of which are still locally represented by their descendants. Among the pioneer families in this area were Cranes, Ducks, Flanagans, Hawes, Kennedys, Lathams, Longs and Wades.
On coming to this area the Ducks and Wades saw it as something of a paradise: "Flowering native trees coloured the gentle slopes to a lush valley. Rivers and creeks were alive with water birds, while others whistled and called from gum trees." The record of their arrival here indicates that they "knelt where they stood, thanking God for leading them to their Garden of Eden." All of the early settlers were people of a Christian faith.
These families made their living from the timber industry, and most of the men would have owned or driven bullock teams. After all, they had been attracted here by the wonderful stands of timber. Trees were felled and conveyed to Herons Creek wharf to be taken by stream punts to mills in Laurieton. Eventually, land was cleared and agriculture began, maize being the main crop. Gradually farming and dairying developed, though it wasn't unusual for farmers to work their farms first thing in the morning and last thing at night whilst holding down jobs at the mills or in other industries.
Come and discover these stories - picnic beside the historic Queens Lake, or sip a glass of wine at Herons Creek Vineyards… We have much to share with you!
Interpretive sites
Trail-head / start point

Harry Rose's Timber Mill

Latham's Private Community Hall and Blacksmith Site

Arthur Richey: Anzac and Veteran of Two World Wars

The Life and Times of Henry (Harry) and Susanna Wade

Alice Latham (Aunt Ally): A Century of Memories

Herons Creek Vineyards: A Garden of Eden

Life on the Creek: Steam Ferries and More

Flanagan Cottage Ruins

Queens Lake Historic Wharf and Picnic Area

Willie Kennedy and Family

The Duck Family Homestead

Timber Stories #1: Brawny Bullocks

Historic Wharf: Commercial Heart of Early Herons Creek

James and Sarah Hawes: First Pioneers

The House of Latham

The Recreation Reserve

The Crane Family – And a Tribute to our Pioneers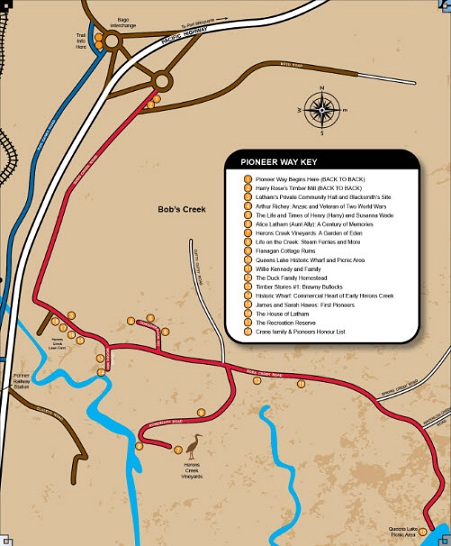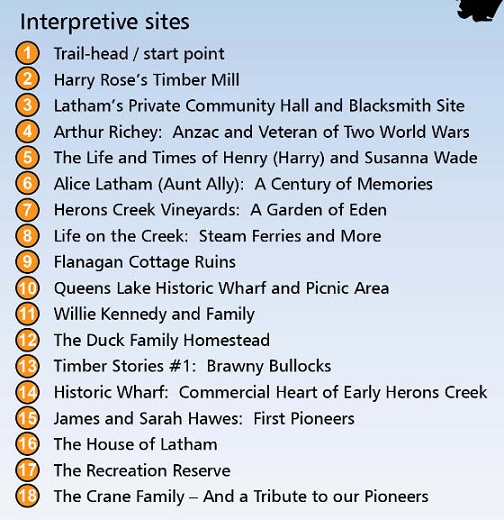 THANK YOU to the Sponsors of this Sign: