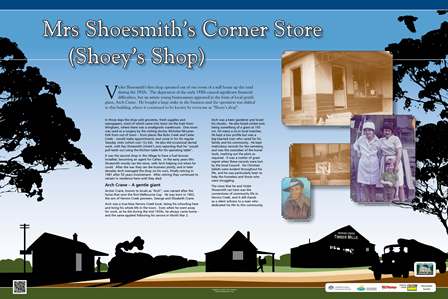 Mrs Shoesmith's Corner Store (Shoey's Shop)
Violet Shoesmith's first shop operated out of one room of a mill house up the road during the 1920s. The depression of the early 1930s caused significant financial difficulties, but an astute young businessman appeared in the form of local gentle giant, Arch Crane. He bought a large stake in the business and the operation was shifted to this building, where it continued to be known by everyone as "Shoey's shop".
In those days the shop sold groceries, fresh supplies and newspapers, most of which came into town via the train from Wingham, where there was a smallgoods warehouse. One room was used as a surgery by the visiting doctor, Nicholas McLaren. Folk from out of town – from places like Bobs Creek and Cedar Creek – would make appointments and come in for his regular Tuesday visits (which cost 12s 6d). He also did occasional dental work, with Ray Shoesmith (Violet's son) reporting that he "would pull teeth out using the kitchen table for his operating table".
It was the second shop in the village to have a fuel bowser installed, becoming an agent for Caltex. In the early years Mrs Shoesmith mostly ran the store, with Arch helping out when he could. After the war they ran the business jointly, and in later decades Arch managed the shop on his own, finally retiring in 1981 after 50 years involvement. After retiring they continued to remain in residence here until they died.
Arch Crane – A gentle giant
Archer Crane, known to locals as "Arch", was named after the horse that won the first Melbourne Cup. He was born in 1902, the son of Herons Creek pioneers, George and Elizabeth Crane.
Arch was a true-blue Herons Creek local, doing his schooling here and living his whole life in the town. Even when he went away for work, as he did during the mid 1930s, he always came home – and the same applied following his service in World War 2.
Arch was a keen gardener and loved his chooks. He also loved cricket and, being something of a giant at 193 cm, hit many a six in local matches. He kept a low profile but was a big-hearted man who cared for his family and his community. He kept meticulous records for the cemetery, and was the custodian of the burial tools, marking out the plots as required. It was a matter of great regret when these records were lost by the local Council. His Christian beliefs were evident throughout his life, and he was particularly keen to help the homeless and those who were struggling.
The store that he and Violet Shoesmith ran here was the cornerstone of community life in Herons Creek, and it still stands as a silent witness to a man who dedicated his life to this community.

THANK YOU to the Sponsors of this Sign: