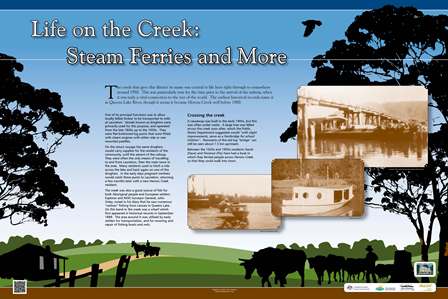 The creek that gave this district its name was central to life here right through to somewhere around 1950. This was particularly true for the time prior to the arrival of the railway, when it was truly a vital connection to the rest of the world. The earliest historical records name it as Queens Lake River, though it seems it became Herons Creek well before 1900.

One of its principal functions was to allow locally-felled timber to be transported to mills at Laurieton. Vessels known as droghers were primarily used for this purpose, and operated from the late 1800s up to the 1950s. They were flat-bottomed log punts that were fitted with steam engines with either side or rear mounted paddles.

On the return voyage the same droghers would carry supplies for the residents of the community, until the advent of the railway. They were often the only means of travelling to and from Laurieton, then the main town in the area. Many residents used to hitch a ride across the lake and back again on one of the droghers. In the early days pregnant mothers would catch these punts to Laurieton, returning a few months later with a new Herons Creek resident.

The creek was also a good source of fish for both Aboriginal people and European settlers. Explorer and NSW Surveyor General, John Oxley, noted in his diary that he saw numerous "natives" fishing from canoes in Queens Lake. On this bend in the creek was a wharf which first appeared in historical records in September 1888. The area around it was utilised by early settlers for transportation, and for mooring and repair of fishing boats and nets.
Crossing the creek.

A causeway was built in the early 1900s, but this was often under water. A large tree was felled across the creek soon after, which the Public Works Department suggested would "with slight improvements, serve as a footbridge for school children". Remnants of the old log "bridge" can still be seen about 1.5 km upstream.

Between the 1920s and 1950s residents David (Dave) and Florence (Flo) Hare had a boat in which they ferried people across Herons Creek so that they could walk into town.