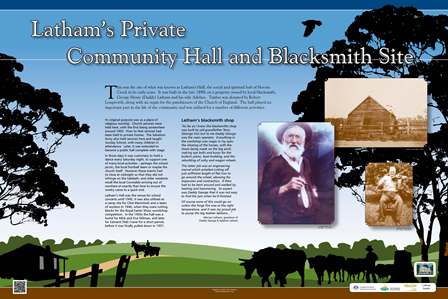 This was the site of what was known as Latham's Hall, the social and spiritual hub of Herons Creek in its early years. It was built in the late 1890s on a property owned by local blacksmith, George Henry (Daddy) Latham and his wife Adeline. Timber was donated by Robert Longworth, along with an organ for the parishioners of the Church of England. The hall played an important part in the life of the community and was utilised for a number of different activities.
Its original purpose was as a place of religious worship. Church services were held here, with the first being somewhere around 1900. Prior to that services had been held in private homes. The Salvation Army also held services here and taught Sunday School, with many children in attendance. Later, it was extended to become a public hall complete with stage.
In those days it was customary to hold a dance every Saturday night, to support one of many local activities – perhaps the school picnic, the local football team or maybe the church itself. However these events had to close at midnight so that they did not infringe on the Sabbath, and older residents recall the local Constable arriving out of nowhere at exactly that time to ensure the revelry came to a quick end.
Latham's Hall was the venue for school concerts until 1945; it was also utilised as a camp site for Clive MacIntosh and a team of workers in 1946, when they were cutting blocks for the Royal Easter Show woodchop competition. In the 1950s the hall was a home for Mick and Ena Wilman, and later for Edward (Ted) Crane for a short period, before it was finally pulled down in 1957.
Latham's blacksmith shop
"As far as I know the blacksmiths shop was built by old grandfather Terry (George Snr) but to me Daddy George was the main operator. Everything in the workshop was magic in my eyes: the shoeing of the horses, with the shoes being made on the big anvil; making eye bolts and bows for the bullock yokes; boat building, and the rebuilding of sulky and wagon wheels.
This latter job was an engineering marvel which entailed cutting off just sufficient length of flat iron to go around the wheel, allowing for expansion and contraction. It then had to be bent around and welded by heating and hammering. So expert was Daddy George that it was not easy to find the join when he'd finished.
Of course none of this could go on unless the forge fire was at the right temperature, and it was my proud job to pump the big leather bellows…"
Mervyn Latham, grandson of Daddy George & Adeline Latham