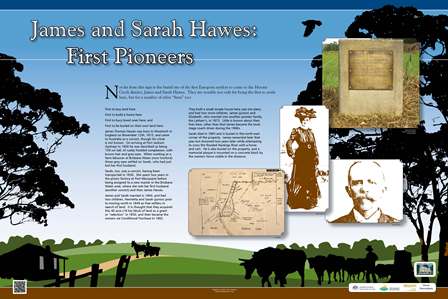 Not far from this sign is the burial site of the first European settlers to come to the Herons Creek district, James and Sarah Hawes. They are notable not only for being the first to settle here, but for a number of other "firsts" too:
First to buy land here

First to build a home here

First to bury loved ones here, and

First to be buried on their own land here.
James Thomas Hawes was born in Woolwich in England on November 12th, 1815, and came to Australia as a convict, though his crime is not known. On arriving at Port Jackson (Sydney) in 1836 he was described as being 159 cm tall, of ruddy freckled complexion, with brown hair and grey eyes. When working as a farm labourer at Brisbane Water (now Gosford) those grey eyes settled on Sarah, who had just lost her first husband.

Sarah, too, was a convict, having been transported in 1836. She spent two years in the prison factory at Port Macquarie before being assigned to a new master in the Brisbane Water area, where she met her first husband (another convict) and then James Hawes.

James and Sarah married in 1844, and had two children, Henrietta and Sarah (junior) prior to moving north in 1849 as free settlers in search of land. It is thought that they acquired this 40 acre (18 ha) block of land as a grant or "selection" in 1850, and then became the owners via Conditional Purchase in 1862.

They built a small simple house here (see site plan), and had two more children, James (junior) and Elizabeth, who married into another pioneer family, the Latham's, in 1873. Little is known about their lives here, other than that James became the local stage coach driver during the 1860s.

Sarah died in 1865 and is buried in the north-east corner of the property. James remarried later that year but drowned two years later while attempting to cross the flooded Hastings River with a horse and cart. He is also buried on the property, and a memorial plaque is mounted on a concrete block by the western fence visible in the distance.