'Herons Creek has a new face lift –a new art work to enjoy'.
Port Macquarie Hastings Council and members & friends of Herons Creek Chapel have worked together to negotiated a place at the entrance of the former village to erect a piece of art work, a monument of historic significance. The sculpture is a steel silhoette of horses pulling a logging trolley and will draw attention to the activities and stories of these timber tramways that ran through Herons Creek in the late 1890's. Gone are the days of huge horses dragging the trolley holding the log, slowly moving along timber rails. This was one of the first industries in our district.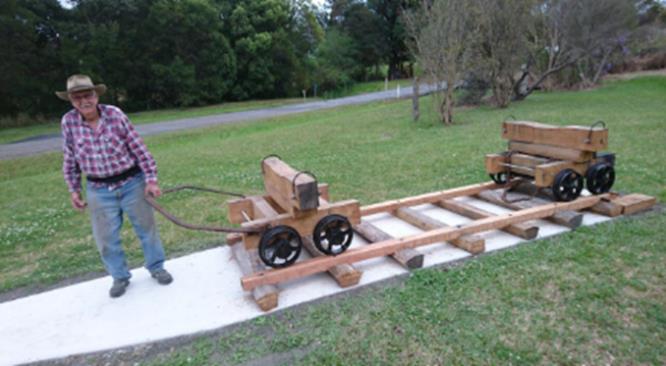 (Bill Boyd with his handiwork)
Volunteers enthusiastically assisted Bill Boyd (O.A.M) of Herons Creek to build two replica trolleys for the sculpture resembling the original ones, to give the sculpture authenticity. Bill was instrumental in the design, and the building of the log bogies using old timber skills to keep it looking as genuine as possible. One set of wheels was kindly donated by Liz of the antique shop, Tragic Treasures, at Kew. Another was resourced from an old timber mill at Nabiac thanks to a contact through Tom Boyd.
This has been a bigger project than anyone ever imagined and there are so many volunteers from our community & neighbouring districts to thank. This list I will publish another day except to say a HUGE THANKS to all. We were honoured to be joined by Ian McNeil, a researcher, the author of a book on the Langley Vale Timber Tramway (available at Cundletown Museum), and is currently working on a bigger collection of stories to do with timber tramways in NSW. The joint research took a year in its writing. A 1800mm x 1200mm sign will be erected in the near future telling the story of this incredible tramway story.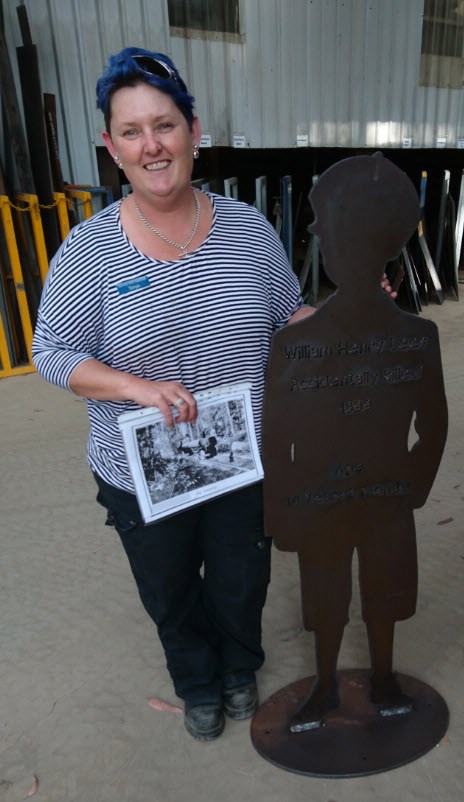 Tanya Newman standing with William Lees
This new gateway monument was assembled a few weeks -Wednesday when Bennetts Steel truck rolls up with the long awaited steel images to be erected at the entrance to our former village. This was personally overseen by Tanya Newman herself, the managing director of Bennetts Steel.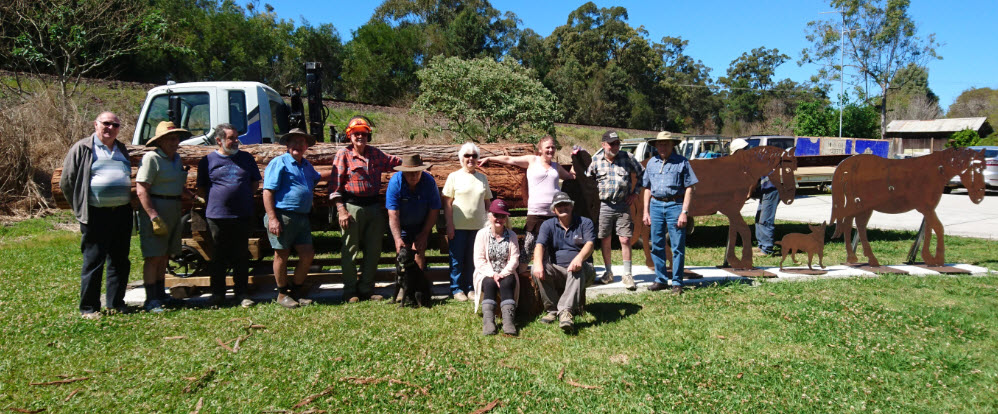 Attached are a few sneak previews of the manufacturing of the images. We were given an extra surprise the afternoon before the installation when a sneak preview was allowed and I was blown away by what I saw, but there was more. Our budget could only stretch for these steel images to be cut from 6mm steel. As I ponder on the sneak preview it took me a few minutes to dawn that the thicknesses was twice as thick than ordered. What a generous contribution. This monument is one of a kind, and has become a real talking point in our community and soon,when word gets out, to the whole Hastings for some time to come.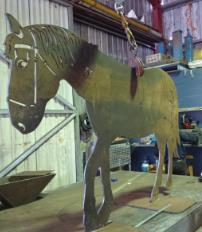 Steel sculpture of Horse being welded
To erect a project like this cost a small fortune. An initial grant by the Place Making team from Port Macquarie Hasting Council got this project up and running. Since then, a number of individuals, community groups, small business and companies have got behind the project. A big thank you goes out to Bennetts Steel, Bago Vineyards, Builder-Martin Hocking, Cedar Creek Retreat, Clear Vision Graphics, Herons Creek Public School, iKew Tourist Information Centre, Kendall Heritage Society inc, Kendall Mens Shed, Kulbardi Hill Consulting, PC Pitstop, Tragic Treasures, One Steel, and Ray White Real Estate Laurieton, our sponsors. Our trails committee members are so gratefulness for all the assistance given.

the Turpentine tramway sculpture - a new monument at the start of the former village on Herons Creek Road, Herons Creek Village
Come, stand with us as we seek to beautify the main entrance into our former township and stand proud as a community in celebrating our past and our present. Contact Martin Parish 0411426427 / This email address is being protected from spambots. You need JavaScript enabled to view it.This email address is being protected from spambots. You need JavaScript enabled to view it.This email address is being protected from spambots. You need JavaScript enabled to view it. or Bill Boyd O.A.M. 0265857022 / 0429857002
A sign will follow in the coming month to be erected beside the monument expounding on the incredible story that goes with the art work.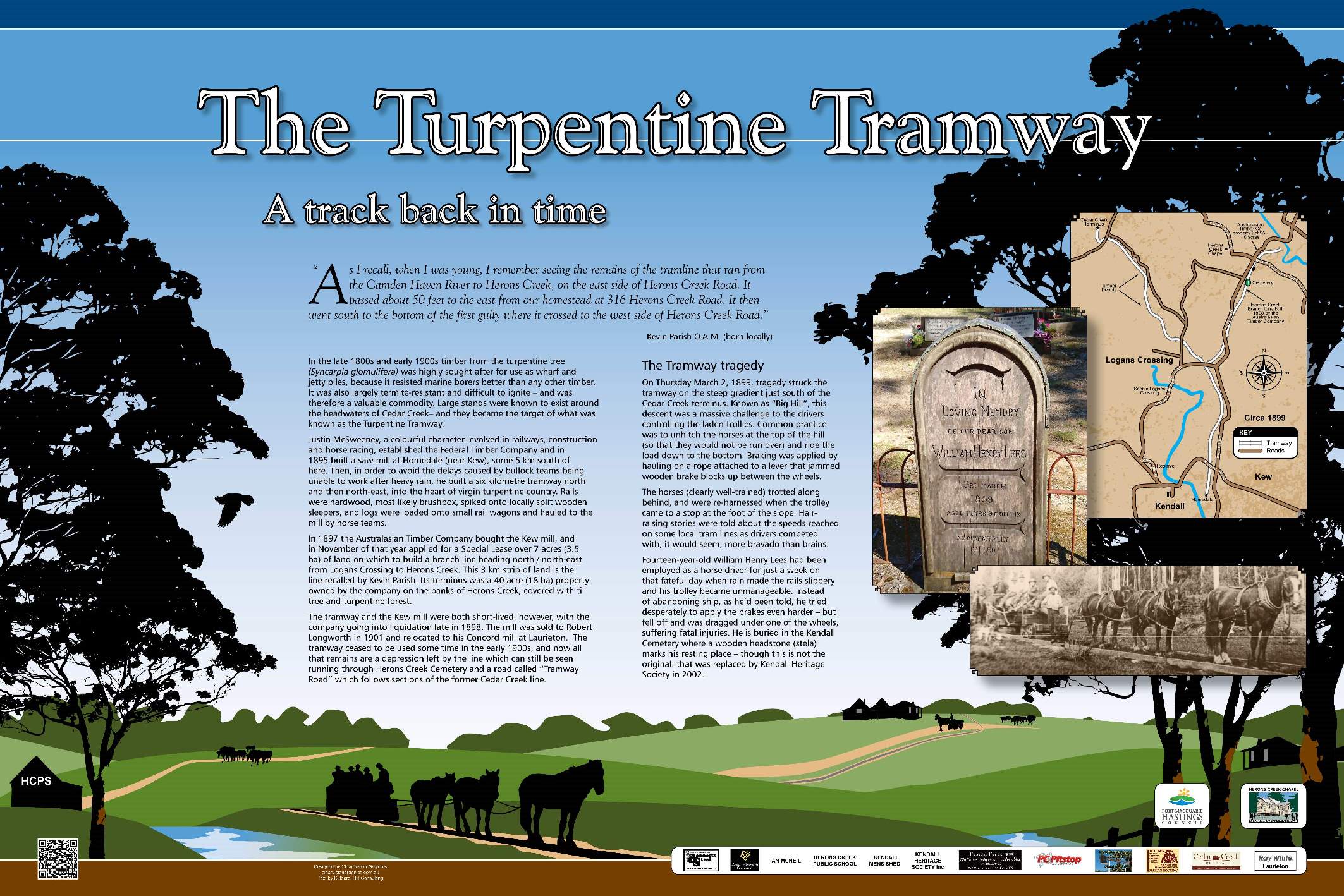 Shalom
Martin Parish
Pastor – Herons Creek Chapel
Coordinator –Herons Creek Trail Committee
Email – This email address is being protected from spambots. You need JavaScript enabled to view it.