A decision to Defer.

From notes from http://www.jrpp.nsw.gov.au/Meetings/tabid/82/ctl/view/JRPP_ID/2539/mid/460/a/1/language/en-US/Default.aspx
RECORD OF DEFERRAL
NORTHERN JOINT REGIONAL PLANNING PANEL
Public meeting held at Herons Creek Church, 49 Blackbutt Road, Herons Creek on Wednesday 21
September 2016 opened at 4.30pm and closed at 7pm.
MATTER DEFERRED
The application seeks consent for the establishment of a hard rock quarry with capacity of up to 200,000
tonnes of aggregate per year. The proposal includes clearing of the existing hardwood timber plantation,
construction of processing and storage facilities, construction of a water storage dam, and the upgrading of
access roads.
VERBAL SUBMISSIONS
 Support – NIL
 Object – 10
 On behalf of the applicant – 3
REASONS FOR DEFERRAL
The panel resolved to defer the determination of the matter until:
1. An assessment of alternative sites has been undertaken;
2. An updated noise impact assessment; and
3. A social & economic impact assessment,
are completed by applicant and assessed by council as the Panel resolved they were not
adequately considered in the EIS and a proper assessment was therefore not possible.
When this information has been received, the panel will hold another public determination meeting.
The decision to defer the matter was Unanimous.
PANEL MEMBERS
Garry West (Chair)
Pamela Westing
Stephen Gow
Paul Drake
http://www.jrpp.nsw.gov.au/Meetings/tabid/82/ctl/view/JRPP_ID/2539/mid/460/a/1/language/en-US/Default.aspx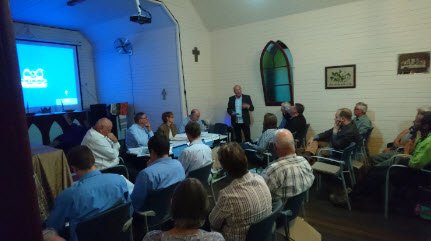 Reflections on the night by Maureen Churnside - No New Quarry Herons Creek
"I question the correctness of the record, that only 10 verbal objections have been noted. 11 people spoke on the evening. One wasn't register (Nikala Sim) however, she was given the ok by the panel to speak. 8 proxies were spoken for on the evening and appear not to have been included in the count. Correct process was followed to formally register and confirm proxy eligibility with the JRPP secretariate within the requisite time frame. The total objections should read 19 which is almost double what has been stated."
Maureen Churnside - No New Quarry Herons Creek