In the past few days we received letters (see below) from Port Macquarie Hastings Council, from CTK Natural Resources Pty Ltd in regards to the new Quarry application for Herons Creek. There is also an email from representatives of 'No New Quarry' at the end of these letters. and finally a word of advice from a local, on what is the next step.

1. From Theresa Foster, Administration Officer - Development & Environment, Port Macquarie Hastings Council: PO Box 84 PORT MACQUARIE NSW 2444 (02) 6581 8547)
Neighbour Notification for Additional Info attached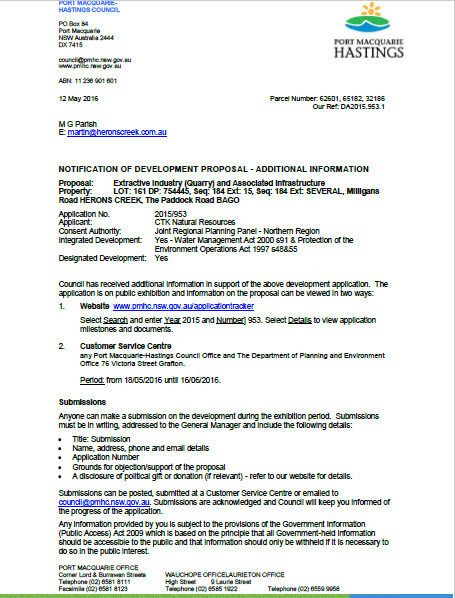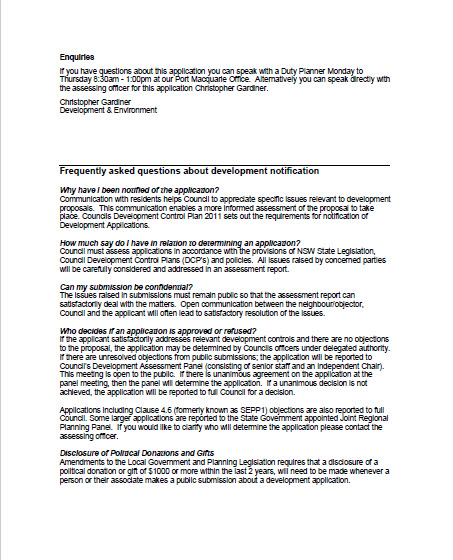 2. Correspondences from CTK Natural Resources Pty Ltd
Proposed Quarry Herons Creek
UPDATE - 22nd April 2016
In December last year our company circulated an information flyer to property owners in the Milligans Road neighbourhood, setting out summary details of the proposed Lookout Road quarry.
Subsequently, we submitted a development application to Port Macquarie Hastings Council (Council) accompanied by an environmental impact statement (EIS).
Details of the development application were posted onto Council's website early in the New Year.
Many submissions, both positive and negative, from local landowners and residents were sent to Council covering a wide range of issues. Council reviewed those submissions, and then wrote to our company requisitioning further details and explanations relating to the development application. We have had several meetings with council staff clarifying their requirements, and exploring various alternatives. Stemming from that process, it has been decided to relocate the position of the proposed water storage dam, and to provide vegetated buffers around the quarry in locations that will mitigate any adverse visual impact. The revised location of the water storage dam is now approximately 100 m upstream (in a north-westerly direction) from the previous location, and will be accessed from Forestry trails on the western side of the dam. The relocated vegetated buffers are now immediately adjacent to quarry. In response to Council's requisitions, our consultants have undertaken further studies, and prepared further reports. Those reports are currently being assembled into and addendum (to the EIS) that will shortly be submitted to Council. Council staff have advised that the addendum will be posted onto Council's website, and Council will communicate with local property owners and residents confirming access to the addendum, and inviting further submissions. Should any interested party wish to discuss any aspect of the EIS and/or the addendum with us, we would be pleased to receive your email request and we will arrange to confer with you. Please send emails to This email address is being protected from spambots. You need JavaScript enabled to view it.This email address is being protected from spambots. You need JavaScript enabled to view it.This email address is being protected from spambots. You need JavaScript enabled to view it. If there is sufficient interest from local residents, we would consider convening a meeting with those residents to address relevant concerns. Please note that, independent of the subject development application, the Forestry Corporation has advised that it has scheduled harvesting operations in the vicinity of the quarry this year.
Thank you for your interest. For Further Enquiries please contact us via the following:
Email: This email address is being protected from spambots. You need JavaScript enabled to view it.This email address is being protected from spambots. You need JavaScript enabled to view it. Mail: CTK Natural Resources P.O. BOW 665, Wauchope, NSW 2446
For more information visit http://pmhclistening.com.au/extractive-industry-quarry
And;

Dear Sir/Madam,
Further to our development application for the proposed quarry and submissions received by Council from interested parties, Council has made a series of requisitions in regards to the application. Stemming from this our consultants have undertaken further studies and prepared further reports. These reports will be assembled into an addendum (to the EIS) that will be shortly submitted to Council. We have been advised by Council that the addendum will be posted onto Council's website and Council will communicate with local property owners and residents confirming access to the addendum and to invite further submissions. We would greatly appreciate if you could distribute the attached flyer among your readership, many of whom having an interest in this development application, so as to ensure they are aware of this updated situation and are afforded ample time to review the aforementioned documents and opportunity to make further submissions should they so desire.
Yours Faithfully,
CTK Natural Resources Pty Ltd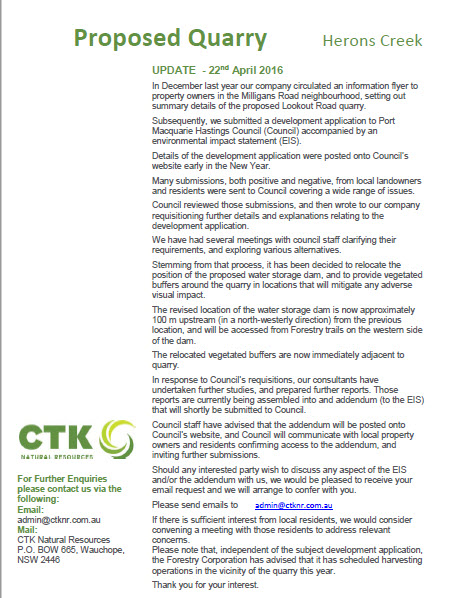 3. Corresondence from 'No New Quarry'committee member.

Hi Everyone,
The following message has been received from Council:
"The Application Tracker on Council website has been recently upgraded and you can now view/download the documents from there. The link is http://www.pmhc.nsw.gov.au/Building-Planning/Building-Property-Information/Application-Tracker
You will just need to search by the DA number." The document is 300 plus pages long so depending on your internet speed will take a while to download.

Best Regards
Ray Posner
Spokesman – No New Quarry Group
4. A word of advice from a local, on what is our next step

I am sure you and lots of community members will receive correspondence from Council about the quarry proposal. In my experience, individual submissions create the biggest & greatest impact on a proposal, hence my suggestions
1. Call another district meeting to be updated on the changes & how these will impact us as a community.
2. We all individually submit a written submission during the exhibition period. This is critical.
FROM THE EDITOR: Well, there you have the latest update on the proposed new quarry. I hope you give this information above your upmost attention. If you have any correspondence, you may like to see added, (i reserve the right to publish), please email the editor This email address is being protected from spambots. You need JavaScript enabled to view it.