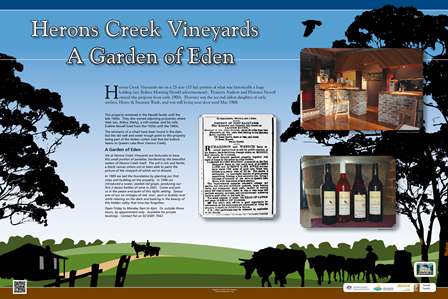 Herons Creek Vineyards sits on a 25 acre (10 ha) portion of what was historically a huge holding (see Sydney Morning Herald advertisement). Pioneers Andrew and Florence Newell owned this property from early 1900s. Florence was the second eldest daughter of early settlers, Henry & Susanna Wade, and was still living next door until May 1968.

This property remained in the Newell family until the late 1960s. They also owned adjoining properties where their son, Arthur (Patty), a mill worker, and his wife Evaline Newell lived from the 1930s until the 1960s.

The remnants of a wharf have been found in the dam, but the old well and water trough point to this property being part of the timber cutters trail that led bullock teams to Queens Lake River (Herons Creek).
A Garden of Eden.

We at Herons Creek Vineyards are fortunate to have this small portion of paradise, bordered by the beautiful waters of Herons Creek itself. The soil is rich and fertile, a blank canvas where we've been able to paint the picture of the vineyard of which we've dreamt.

In 1989 we laid the foundation by planting our first vines and building on the property. In 1996 we introduced a sweet, seeded red grape, producing our first 2 dozen bottles of wine in 2001. Come and join us in the peace and quiet of this idyllic setting. Savour one of our six vintages of red, rose', port or bubbly rose' while relaxing on the deck and basking in the beauty of this hidden valley that time has forgotten.

Open Friday to Monday 9am to 4pm. Or, outside those hours, by appointment only. Available for private bookings. Contact Pat on 02 6585 7042.