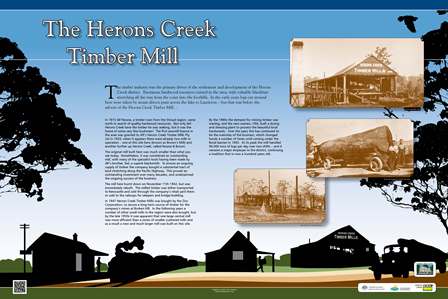 The Herons Creek Timber Mill
The timber industry was the primary driver of the settlement and development of the Herons Creek district. Enormous hardwood resources existed in the area, with valuable blackbutt stretching all the way from the coast into the foothills. In the early years logs cut around here were taken by steam-driven punt across the lake to Laurieton – but that was before the advent of the Herons Creek Timber Mill…
In 1915 Alf Noone, a timber man from the Stroud region, came north in search of quality hardwood resources. Not only did Herons Creek have the timber he was seeking, but it was the home of some very fine bushmen! The first sawmill licence in the area was granted to Alf's Herons Creek Timber Mills Pty Ltd in 1920, when it appears there were already two mills in operation – one at this site here (known as Brown's Mill) and another further up Herons Creek, called Noone & Brown.
The original mill built here was much smaller than what you see today. Nonetheless, it was considered an outstanding mill, with many of the specialist tools having been made by Alf's brother, Ted, a superb blacksmith. To ensure an ongoing supply of timber the company bought a substantial tract of land stretching along the Pacific Highway. This proved an outstanding investment over many decades, and underpinned the ongoing success of the business.
The mill here burnt down on November 11th 1942, but was immediately rebuilt. The milled timber was either transported to Newcastle and sold through the company's retail yard there or sold to the railways for sleepers and bridge-building.
In 1947 Herons Creek Timber Mills was bought by the Zinc Corporation, to secure a long-term source of timber for the company's mines at Broken Hill. In the following years a number of other small mills in the region were also bought, but by the late 1950s it was apparent that one large central mill was more efficient than a series of smaller scattered mills and as a result a new and much larger mill was built on this site.
By the 1980s the demand for mining timber was waning, and the new owners, CRA, built a drying and dressing plant to process the beautiful local hardwoods. Over the years this has continued to be the mainstay of the business, which changed hands a number of times until coming under the Boral banner in 1992. At its peak the mill handled 90,000 tons of logs per day over two shifts – and it remains a major employer in the district, continuing a tradition that is now a hundred years old.

THANK YOU to the Sponsors of this Sign: