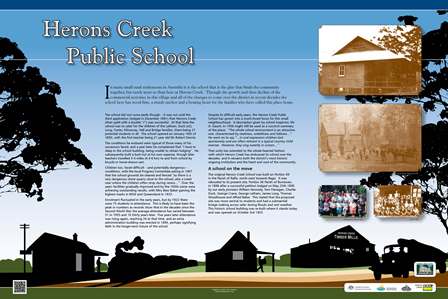 Herons Creek Public School
In many small rural settlements in Australia it is the school that is the glue that binds the community together, but rarely more so than here at Herons Creek. Through the growth and then decline of the commercial activities in this village and all of the changes to come over the district in recent decades the school here has stood firm, a sturdy anchor and a beating heart for the families who have called this place home.
The school did not come easily though – it was not until the third application (lodged in December 1891) that Herrons Creek (then spelt with a double "r") was successful. At that time the school was to cater for the children of the Latham, Duck (x2), Long, Foster, Kilmurray, Hall and Bridge families, there being 27 potential students in all. The school opened on January 16th of 1893, with the first teacher being 21 year old Mr Robert Dennis.
The conditions he endured were typical of those many of his successors faced, and a year later he complained that "I have to sleep in the school building, being unable to obtain lodging". He subsequently built a bark hut at his own expense, though later teachers travelled 3-4 miles (4.4-6 km) to and from school by bicycle or horse-drawn cart.
Children too, faced difficult – and potentially dangerous – conditions, with the local Progress Committee asking in 1907 that the school grounds be cleared and fenced "as there is a very dangerous stone quarry close to the school, also a creek near where the children often stray during recess…" Over the years facilities gradually improved and by the 1930s some were achieving outstanding results, with Miss Bess Baker gaining the highest marks in NSW and Queensland in 1933.
Enrolment fluctuated in the early years, but by 1922 there were 75 students in attendance. This is likely to have been the peak in numbers as records show that in the decades since the Second World War the average attendance has varied between 51 in 1955 and 10 thirty years later. Five years later attendance was rising again, reaching 34 at that time, and an extra administration building was erected in 1993, perhaps signifying faith in the longer-term future of the school.
Despite its difficult early years, the Herons Creek Public School has grown into a much-loved focus for this small neighbourhood. A description given by school inspector, Mr A. Gaunt, in 1956 might still be used as a succinct summary of the place: "The whole school environment is an attractive one, characterised by neatness, orderliness and tidiness…" He went on to say "…in oral expression children lack spontaneity and are often reticent in a typical country child manner. However, they sing sweetly in unison…"
That unity has extended to the whole-hearted fashion with which Herons Creek has embraced its school over the decades, and it remains both the district's most historic ongoing institution and the heart and soul of the community.
A school on the move
The original Herons Creek School was built on Portion 69 in the Parish of Ralfe, north-west towards Bago. It was relocated to its present site, Portion 36 Parish of Burrawan, in 1896 after a successful petition lodged on May 25th 1895 by our early pioneers William Kennedy, Tom Flanagan, Charlie Duck, George Crane, George Latham, James Long, Thomas Woodhouse and Alfred Baker. This stated that the proposed site was more central to students and had a substantial bridge making access safer during floods and wet weather. This historic school building was re-built where it stands today and was opened on October 3rd 1925.

THANK YOU to the Sponsors of this Sign: