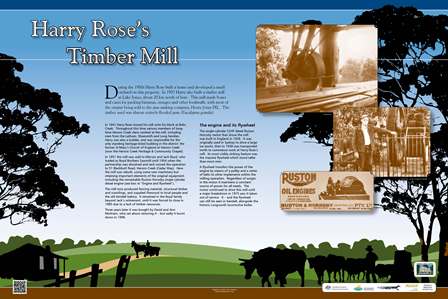 During the 1930s Harry Rose built a home and developed a small orchard on this property. In 1937 Harry also built a timber mill at Lake Innes, about 20 km north of here. This mill made boxes and cases for packing bananas, oranges and other foodstuffs, with most of the output being sold to the jam-making company, Henry Jones IXL. The timber used was almost entirely flooded gum (Eucalyptus grandis).
In 1941 Harry Rose moved his mill onto his block at Bobs Creek. Throughout this time various members of long-time Herons Creek clans worked at the mill, including men from the Latham, Shoesmith and Long families. Harry was also a builder, and was responsible for the only standing heritage-listed building in the district: the former St Mary's Church of England at Herons Creek (now the Herons Creek Heritage & Community Chapel).
In 1951 the mill was sold to Mervyn and Jack Boyd, who traded as Boyd Brothers Sawmill until 1954 when the partnership was dissolved and Jack moved the operation to 51 Blackbutt Road, Herons Creek (Cedar Way). Here the mill was rebuilt, using some new machinery but retaining important elements of the original equipment including the remarkable Ruston Hornsby single cylinder diesel engine (see box re "Engine and flywheel").
The mill now produced fencing material, structural timber and scantlings, and supplied firewood to local people and the old Kendall bakery. It remained in the Boyd family beyond Jack's retirement, until it was forced to close in 1985 due to a lack of timber resources.
Three years later it was bought by David and Ann Mottram, who set about restoring it – but sadly it burnt down in 1996.
The engine and its flywheel
The single-cylinder 52HP diesel Ruston Hornsby motor that drove the mill was built in England in 1928. It was originally used in Sydney to drive a large ice works, then in 1938 was transported north to commence work at Harry Rose's mill. Its most visibly striking feature was the massive flywheel which stood taller than most men.
A flywheel transfers the power of the engine by means of a pulley and a series of belts to other implements within the milling operation. Regardless of surges in the motor it maintains a constant source of power for all needs. The motor continued to drive this mill until a major breakdown in 1975 saw it taken out of service. It – and the flywheel - can still be seen in Kendall, alongside the historic Longworth locomotive boiler.