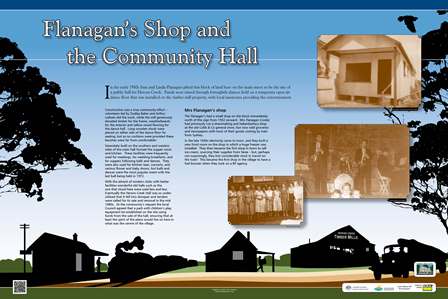 Flanagan's Shop and the Community Hall
In the early 1950s Sam and Linda Flanagan gifted this block of land here on the main street to be the site of a public hall for Herons Creek. Funds were raised through fortnightly dances held on a temporary open air dance floor that was installed on the timber mill property, with local musicians providing the entertainment.
Construction was a true community effort – volunteers led by Dudley Baker and Arthur Latham did the work, while the mill generously donated timber for the frame, weatherboards for the exterior and tallow-wood flooring for the dance hall. Long wooden stools were placed on either side of the dance floor for seating, but as no cushions were provided these benches were far from comfortable!
Verandahs built on the southern and western sides of the main hall formed the supper room and kitchen. These facilities were frequently used for meetings, for wedding breakfasts, and for suppers following balls and dances. They were also used for kitchen teas, concerts, and various flower and baby shows, but balls and dances were the most popular event with the last ball being held in 1972.
With the advent of modern clubs with better facilities wonderful old halls such as the one that stood here were used less and less. Eventually the Herons Creek Hall was so under-utilised that it fell into disrepair and tenders were called for its sale and removal in the mid 1980s. At the community's request the local Council agreed that a park with children's play equipment be established on the site using funds from the sale of the hall, ensuring that at least the spirit of the place would live on here in what was the centre of the village.
Mrs Flanagan's shop
The Flanagan's had a small shop on the block immediately north of this sign from 1932 onward. Mrs Flanagan (Linda) had previously run a dressmaking and haberdashery shop at the old Cobb & Co general store, but now sold groceries and newspapers with most of their goods coming by train from Sydney.
In the late 1940s electricity came to town, and they built a new front room on the shop in which a huge freezer was installed. They then became the first shop in town to sell ice-cream, sourcing their supplies from Taree – but, perhaps not surprisingly, they lost considerable stock in transit on the train! This became the first shop in the village to have a fuel bowser when they took on a BP agency.

THANK YOU to the Sponsors of this Sign: