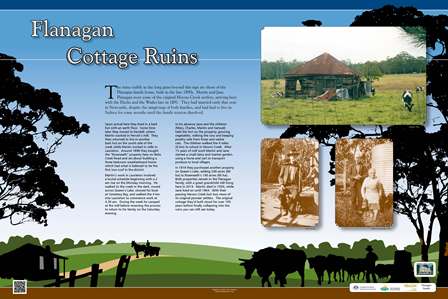 Flanagan Cottage Ruins The ruins visible in the long grass beyond this sign are those of the Flanagan family home, built in the late 1890s. Martin and Jane Flanagan were some of the original Herons Creek settlers, arriving here with the Ducks and the Wades late in 1891. They had married early that year in Newcastle, despite the misgivings of both families, and had had to live in Sydney for some months until the family tension dissolved.

Upon arrival here they lived in a bark hut with an earth floor. Some time later they moved to Kendall, where Martin worked in Perrott's mill. They then returned to live in another bark hut on the south side of the creek while Martin worked in mills in Laurieton. Around 1898 they bought the "Roseneath" property here on Bobs Creek Road and set about building a three bedroom weatherboard home which had what is believed to be the first iron roof in the district.

Martin's work in Laurieton involved a brutal schedule beginning with a 2 am rise on the Monday morning. He walked to the creek in the dark, rowed across Queen's Lake, stowed his boat at Cemetery Bay, and walked the 4 km into Laurieton to commence work at 4.30 am. During the week he camped at the mill before reversing the process to return to his family on the Saturday evening.

In his absence Jane and the children (Mary, Charles, Martin and Samuel) held the fort on the property, growing vegetables, milking the cow and keeping poultry safe from foxes and native cats. The children walked the 4 miles (6 km) to school in Herons Creek. After 15 years of mill work Martin and Jane started a small dairy and market garden, using a horse and cart to transport produce to local villages.

In 1919 they purchased another property on Queen's Lake, adding 200 acres (80 ha) to Roseneath's 140 acres (60 ha). Both properties remain in the Flanagan family, with a great grandchild still living here in 2014. Martin died in 1950, while Jane lived on until 1964. With their passing Herons Creek lost two more of its original pioneer settlers. The original cottage they'd built stood for over 100 years before finally collapsing into the ruins you can still see today.