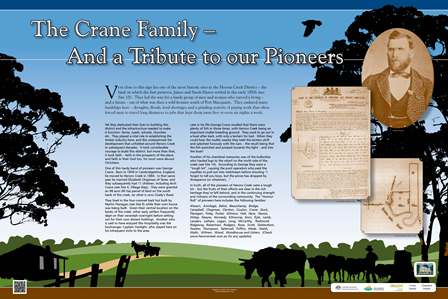 Very close to this sign lies one of the most historic sites in the Herons Creek District – the land on which the first pioneers, James and Sarah Hawes settled in the early 1850s (see Site 15). They led the way for a hardy group of men and women who carved a living – and a future - out of what was then a wild frontier south of Port Macquarie. They endured many hardships here – droughts, floods, food shortages and a grinding scarcity of paying work that often forced men to travel long distances to jobs that kept them away five or even six nights a week.
Yet they dedicated their lives to building this district and the infrastructure needed to make it function: farms, roads, schools, churches etc. They played a vital role in establishing the timber industry here, and this underpinned the development that unfolded around Herons Creek in subsequent decades. It took considerable courage to build this district, but more than that, it took faith – faith in the prospects of the place, and faith in their God too, for most were devout Christians.
One of this hardy band of pioneers was George Crane. Born in 1849 in Cambridgeshire, England, he moved to Herons Creek in 1884. In that same year he married Elizabeth Chapman of Taree, and they subsequently had 11 children, including Arch Crane (see Site 4, Village Way). They were granted an 88 acre (40 ha) parcel of land on the south bank of the creek, on what is now Cluely's Road.
They lived in the four-roomed bark hut built by Martin Flanagan (see Site 9) while their own house was being built. Given their central location on the banks of the creek, other early settlers frequently slept on their verandah overnight before setting out for their own distant holdings. Another who is said to have enjoyed this hospitality was the bushranger, Captain Starlight, who stayed here on his infrequent visits to the area.
Late in his life George Crane recalled that there were plenty of fish in those times, with Herons Creek being an important mullet breeding ground. They used to go out in a boat after dark, with only a lantern for bait. When they could hear the mullet nearby they held the lantern aloft and splashed furiously with the oars – the result being that the fish panicked and jumped towards the light – and into the boat!
Another of his cherished memories was of the bullockies who hauled logs to the wharf on the north side of the creek (see Site 14). According to George they were a "tough lot", causing the punt operators who paid the royalties to pull out into midstream before shouting "I forgot to tell you boys, but the prices has dropped by threepence (or whatever)…"
In truth, all of the pioneers of Herons Creek were a tough lot – but the fruits of their efforts are clear in the rich heritage they've left behind, and in the continuing strength and richness of the surrounding community. The "Honour Roll" of pioneers here includes the following families:
Ahearn, Armitage, Baker, Beauchamp, Bridge, Campbell, Chapman, Clenton, Coulon, Crane, Duck, Flanagan, Foley, Foster, Gilmour, Hall, Hare, Hawes, Hislop, Keayes, Kennedy, Kilmurray, Korn, Kyle, Lamb, Landers, Latham, Logan, Long, McCarthy, Redmond, Ridgeway, Robertson, Rodgers, Rose, Scott, Sidebottom, Tasaker, Thompson, Tattersall, Tuffins, Wade, Walsh, Watts, Wilmen, Wood, Woodhouse and Ushers. (Check www.heronscreek.com.au for any updates)