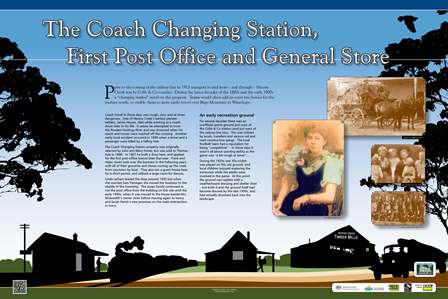 The Coach Changing Station, First Post Office and General Store
Prior to the coming of the railway line in 1915 transport to and from – and through – Herons Creek was by Cobb & Co coaches. During the latter decades of the 1800s and the early 1900s a "changing station" stood on this property. Teams would often add an extra two horses for the journey north, to enable them to more easily travel over Bago Mountain to Wauchope.
Coach travel in those days was rough, slow and at times dangerous. One of Herons Creek's earliest pioneer settlers, James Hawes, died while working as a coach driver later in his life. It seems he attempted to cross the flooded Hastings River and was drowned when his coach and horses were washed off the crossing. Another nasty local accident occurred in 1899 when a driver and a passenger were killed by a falling tree.
The Coach Changing Station property was originally selected by John and Mary Foster, but was sold to Thomas Kyle in 1886. In 1907 he built a shop here, and applied for the first post office licence later that year. Frank and Helen Jones took over the business in the following years, with all of their groceries and stores coming up the creek from Laurieton by boat. They also ran a guest house here for a short period, and utilised a large room for dances.
Linda Latham leased the shop around 1930 but when she married Sam Flanagan she moved her business to the middle of the township. The Jones family continued to run the post office from the building on this site until the early 1940s, when it was moved to the house beside Mrs Shoesmith's corner store before moving again to Henry and Sarah Parish's new premises on the main intersection in town.
An early recreation ground
For several decades there was an unofficial sports ground just west of the Cobb & Co station (and just west of the railway line too). This was utilised by locals, travellers and various rail and road construction gangs. The local football team had a reputation for being "competitive" – in those days it wasn't all about sporting ability as the game was "a bit rough at times"…
During the 1920s and 30s cricket was played on this old ground, and local children enjoyed exploring the surrounds while the adults were involved in the game. At this point the ground was replete with a weatherboard dressing and shelter shed – but both it and the ground itself had become disused by the late 1950s, and had virtually dissolved back into the landscape.

THANK YOU to the Sponsors of this Sign: