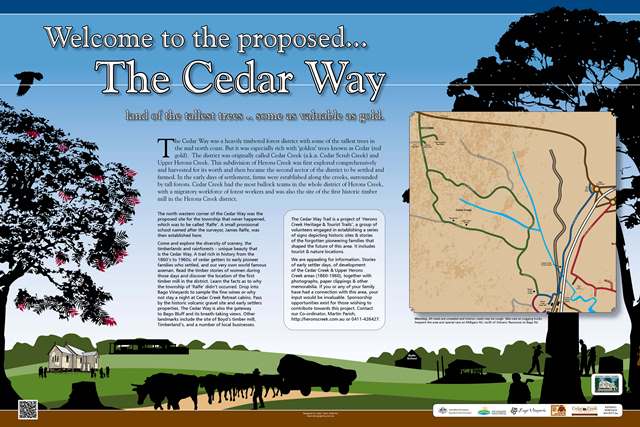 Welcome to the proposed The Cedar Way :: land of the tallest trees .. some as valuable as gold.
The Cedar Way was a heavily timbered forest district with some of the tallest trees in the mid north coast. But it was especially rich with 'golden' trees known as Cedar (red gold). The district was originally called Cedar Creek (a.k.a. Cedar Scrub Creek) and Upper Herons Creek. This subdivision of Herons Creek was first explored comprehensively and harvested for its worth and then became the second sector of the district to be settled and farmed. In the early days of settlement, farms were established along the creeks, surrounded by tall forests. Cedar Creek had the most bullock teams in the whole district of Herons Creek, with a migratory workforce of forest workers and was also the site of the first historic timber mill in the Herons Creek district.
The north western corner of the Cedar Way was the proposed site for the township that never happened, which was to be called 'Ralfe'. A small provisional school named after the surveyor, James Ralfe, was then established here.
Come and explore the diversity of scenery, the timberlands and rainforests – unique beauty that is the Cedar Way. A trail rich in history from the 1860's to 1960s; of cedar getters to early pioneer families who settled, and our very own world famous axeman. Read the timber stories of women during those days and discover the location of the first timber mill in the district. Learn the facts as to why the township of 'Ralfe' didn't occurred. Drop into Bago Vineyards to sample the fine wines or why not stay a night at Cedar Creek Retreat cabins. Pass by the historic volcanic gravel site and early settlers properties. The Cedar Way is also the gateway to Bago Bluff and its breath-taking views. Other landmarks include the site of Boyd's timber mill, Timberland's, and a number of local businesses.
Warning. All roads are unsealed and interior roads may be rough. Take care as Logging trucks frequent the area and special care on Milligans Rd, north of Volcanic Resources to Bago Rd.

NEED YOUR HELP!
The Cedar Way Trail is a project of 'Herons Creek Heritage & Tourist Trails', a group of volunteers engaged in establishing a series of signs depicting historic sites & stories of the forgotten pioneering families that shaped the future of this area. It includes tourist & nature locations.
We are appealing for information. Stories of early settler days, of development of the Cedar Creek & Upper Herons Creek areas (1860-1960), together with photographs, paper clippings & other memorabilia. If you or any of your family have had a connection with this area, your input would be invaluable. Sponsorship opportunities exist for those wishing to contribute towards this project. Contact our Co-ordinator, Martin Parish, http://heronscreek.com.au or 0411-426427.