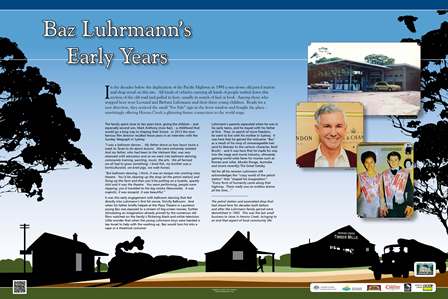 Baz Luhrmann's Early Years
In the decades before the duplication of the Pacific Highway in 1993 a run-down old petrol station and shop stood on this site. All kinds of vehicles carrying all kinds of people rattled down this section of the old road and pulled in here, usually in search of fuel or food. Among those who stopped here were Leonard and Barbara Luhrmann and their three young children. Ready for a new direction, they noticed the small "For Sale" sign in the front window and bought the place – unwittingly offering Herons Creek a glittering future connection to the world stage.
The family spent close to ten years here, giving the children – and especially second son, Mark Anthony (now Baz) – a childhood that would go a long way to shaping their future. In 2013 the now-famous film director recalled those years in an interview with the Sunday Telegraph in Sydney:
"I was a ballroom dancer... My father drove us two hours twice a week to Taree to do dance lessons. We were extremely isolated. And my father, who had been to the Vietnam War, was very obsessed with education and so we were into ballroom dancing, commando training, painting, music, the arts. We all farmed, we all had to grow something: I bred fish, my brother was a horticulturalist, we bred pigs, we rode horses.
"But ballroom dancing, I think, it was an escape into working class theatre. You'd be cleaning up the shop (at the petrol station) and fixing up the farm and then you'd be putting on a tuxedo, sparkly shirt and it was the theatre. You were performing, people were clapping, you'd travelled to the big smoke (Newcastle). It was majestic, it was escapist, it was beautiful."
It was this early engagement with ballroom dancing that fed directly into Luhrmann's first hit movie, Strictly Ballroom. And when his father briefly helped at the Plaza Theatre in Laurieton young Baz was exposed to a stream of big-screen movies, further stimulating an imagination already primed by the numerous old films watched on the family's flickering black-and-white television. Little wonder that when the young Luhrmann boys were handed a tea towel to help with the washing up, Baz would turn his into a cape or a theatrical costume!
Luhrmann's parents separated when he was in his early teens, and he stayed with his father at first. Then, in search of more freedom, he went to live with his mother in Sydney. It was here that he gained the nickname "Baz" as a result of his mop of unmanageable hair (and its likeness to the cartoon character, Basil Brush) – and it was here that he made his way into the stage and movie industry, ultimately gaining world-wide fame for movies such as Romeo and Juliet, Moulin Rouge, Australia and (more recently) The Great Gatsby.
Yet for all his renown Luhrmann still acknowledges the "crazy world of the petrol station" that "shaped his imagination": "Every form of humanity came along that highway. There really was an endless drama all the time…"
----------------------------------
The petrol station and associated shop that had stood here for decades both before and after the Luhrmann family period were demolished in 1993. This was the last small business to close in Herons Creek, bringing to an end that aspect of local community life.

THANK YOU to the Sponsors of this Sign: