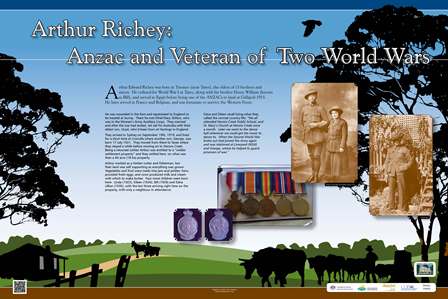 Arthur Edward Richey was born at Tinonee (near Taree), the eldest of 13 brothers and sisters. He enlisted for World War I at Taree, along with his brother Henry William (known as Bill), and served in Egypt before being one of the ANZACs to land at Gallipoli 1915. He later served in France and Belgium, and was fortunate to survive the Western Front.
He was wounded in the foot and repatriated to England to be treated at Surrey. There he met Ethel Mary Skilton, who was in the Women's Army Auxiliary Corps. They married and after the war had ended, set sail for Australia with their eldest son, Lloyd, who'd been born at Hastings in England.
They arrived in Sydney on September 19th, 1919, and lived for a short time at Cronulla where another son, George, was born 17 July 1921. They moved from there to Taree where they stayed a while before moving on to Herons Creek. Being a returned soldier Arthur was entitled to a "soldier settlement property" and they settled here, on what was then a 40 acre (18 ha) property.
Arthur worked as a timber cutter and fisherman, but their land was self supporting as everything was grown. Vegetables and fruit were made into jam and pickles; hens provided fresh eggs, and cows produced milk and cream with which to make butter. Four more children were born here: Linda (1923), Eileen (1926), Bill (1928) and Edna Lillian (1930), with the last three arriving right here on the property, with only a neighbour in attendance.
Edna and Eileen recall living what they called the normal country life: "We all attended Herons Creek Public School, and St. Mary's Church at Herons Creek once a month. Later we went to the dance hall whenever we could get the music to dance to. When the Second World War broke out Dad joined the Army again and was stationed at Liverpool (NSW) and Orange, where he helped to guard prisoners of war."