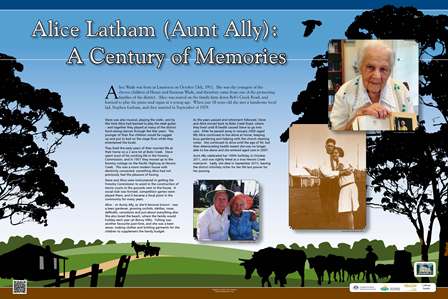 Alice Wade was born at Laurieton on October 13th, 1911. She was the youngest of the eleven children of Henry and Susanna Wade, and therefore came from one of the pioneering families of the district. Alice was reared on the family farm down Bob's Creek Road, and learned to play the piano and organ at a young age. When just 18 years old she met a handsome local lad, Stephen Latham, and they married in September of 1929.

Steve was also musical, playing the violin, and by this time Alice had learned to play the steel guitar – and together they played at many of the district fund-raising dances through the War years. The younger of their five children would be rugged up and put to bed on the stage floor while they entertained the locals.

They lived the early years of their married life at their home on a 2 acre lot at Bobs Creek. Steve spent most of his working life in the Forestry Commission, and in 1957 they moved up to the forestry cottage on the Pacific Highway at Herons Creek. This was a more modern house with electricity connected, something Alice had not previously had the pleasure of having.

Steve and Alice were instrumental in getting the Forestry Commission to assist in the construction of tennis courts in the grounds next to the house. A social club was formed, competition games were played there, and it became a focal point in the community for many years.

Alice – or Aunty Ally, as she'd become known - was a keen gardener, growing orchids, dahlias, roses, daffodils, carnations and just about everything else. She also loved the beach, where the family would holiday each year (at Bonny Hills). Fishing was another favourite past-time, and she was a keen sewer, making clothes and knitting garments for the children to supplement the family budget.

As the years passed and retirement followed, Steve and Alice moved back to Bobs Creek Road, where they lived until ill health caused Steve to go into care. After he passed away in January 2000 (aged 88) Alice continued to live alone at home, keeping busy gardening and helping with the church cleaning roster. She continued to drive until the age of 94, but then deteriorating health meant she was no longer able to live alone and she entered aged care in 2007.

Aunt Ally celebrated her 100th birthday in October 2011, and was rightly feted as a true Herons Creek matriarch. Sadly, she died in September 2013, leaving the district infinitely richer for her life but poorer for her passing.